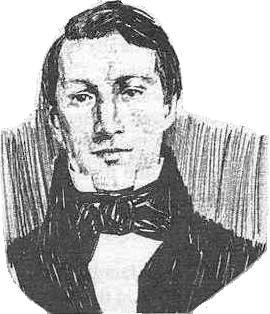 This section and some of the following sections come from "The Prophet and His Progenitors for Many Generations" written by Lucy Mack Smith, the mother of Joseph Smith. The book was published in 1853 in Liverpool. The original ghost writer of this book is Martha Jane Knowlton Coray who is my great great great grandmother on my mother's side. Edits were later made to this book and republished as The History of Joseph Smith by His Mother. 
Alvin was the oldest brother of Joseph Smith and was highly regarding and loved by his family members. In this chapter of the book, Lucy gives invaluable insight into the character of that young man and the positive influence he was — adding to what is learned in the previous chapter.
https://contentdm.lib.byu.edu/digital/collection/NCMP1820-1846/id/16439
---
CHAP. XX
ALVIN'S SICKNESS AND DEATH
On the fifteenth of Nov. 1824, about ten o'clock in the morning, Alvin was taken very sick with the bilious colic. He came to the house in much distress, and requested his father to go immediately for a physician. He accordingly went, and got one by the name of Greenwood, who, on arriving, immediately administered to the patient a heavy dose of calomel. I will here notice, that this Dr. Greenwood was not the physician commonly employed by the family; he was brought in consequence of the family physician's absence. And on this account, as I suppose, Alvin at first refused to take the medicine, but by much persuasion he was prevailed on to do so.
This dose of calomel lodged in his stomach, and all the medicine which was freely administered by four very skillful physicians could not remove it.
On the third day of his sickness, Dr. M'Intyre, whose services were usually employed by the family, as he was considered very skillful, was brought, and with him four other eminent physicians. But it was all in vain, their exertions proved unavailing, just as Alvin had said would be the case–he told them the calomel was still lodged in the same place, after some exertion had been made to carry it off, and that it must take his life.
On coming to this conclusion, he called Hyrum to him, and said, "Hyrum, I must die. Now I want to say a few things, which I wish to have you remember. I have done all I could to make our dear parents comfortable. I want you to go on and finish the house, and take care of them in their old age, and do not any more let them work hard, as they are now in old age."
He then called Sophronia to him, and said to her, "Sophronia, you must be a good girl, and do all you can for father and mother–never forsake them; they have worked hard, and they are now getting old. Be kind to them, and remember what they have done for us."
In the latter part of the fourth night he called for all the children, and exhorted them separately in the same strain as above. But when he came to Joseph, he said, "I am now going to die, the distress which I suffer, and the feelings that I have, tell me my time is very short. I want you to be a good boy, and do everything that lies in your power to obtain the Record. Be faithful in receiving instruction, and in keeping every commandment that is given you. Your brother Alvin must leave you; but remember the example which he has set for you; and set the same example for the children that are younger than yourself, and always be kind to father and mother."
He then asked me to take my little daughter Lucy up, and bring her to him, for he wished to see her. He was always very fond of her, and was in the habit of taking her up and caressing her, which naturally formed a very strong attachment on her part for him. I went to her and said, "Lucy, Alvin wants to see you." At this, she started from her sleep, and screamed out, "Amby, Amby; (she could not yet talk plain, being very young). We took her to him, and when she got within reach of him, she sprang from my arms and caught him round the neck, and cried out, "Oh! my Amby," and kissed him again and again.
"Lucy," said he, "you must be the best girl in the world, and take care of mother; you can't have your Amby any more. Amby is going away; he must leave little Lucy." He then kissed her, and said, "take her away, I think my breath offends her." We took hold of her to take her away; but she clinched him with such a strong grasp, that it was with difficulty we succeeded in disengaging her hands.
As I turned with the child to leave him, he said, "father, mother, brothers, and sisters, farewell! I can now breathe out my life calmly as a clock." Saying this, he immediately closed his eyes in death.
The child still cried to go back to Alvin. One present observed to the child, "Alvin is gone; an angel has taken his spirit to heaven." Hearing this, the child renewed her cries, and, as I bent over his corpse with her in my arms, she again threw her arms around him, and kissed him repeatedly. And until the body was taken from the house she continued to cry, and to manifest such mingled feelings of both terror and affection at the scene before her, as are seldom witnessed.
Alvin was a youth of singular goodness of disposition–kind and amiable, so that lamentation and mourning filled the whole neighbourhood in which he resided.
By the request of the principal physician, Alvin was cut open, in order to discover, if it were possible, the cause of his death. On doing so, they found the calomel lodged in the upper bowels, untouched by anything which he had taken to remove it, and as near as possible in its natural state, surrounded as it was with gangrene.
A vast concourse of people attended his obsequies, who seemed very anxious to show their sympathy for us in our bereavement.
Alvin manifested, if such could be the case, greater zeal and anxiety in regard to the Record that had been shown to Joseph, than any of the rest of the family; in consequence of which we could not bear to hear anything said upon the subject. Whenever Joseph spoke of the Record, it would immediately bring Alvin to our minds, with all his zeal, and with all his kindness; and, when we looked to his place, and realized that he was gone from it, to return no more in this life, we all with one accord wept over our irretrievable loss, and we could "not be comforted, because he was not."