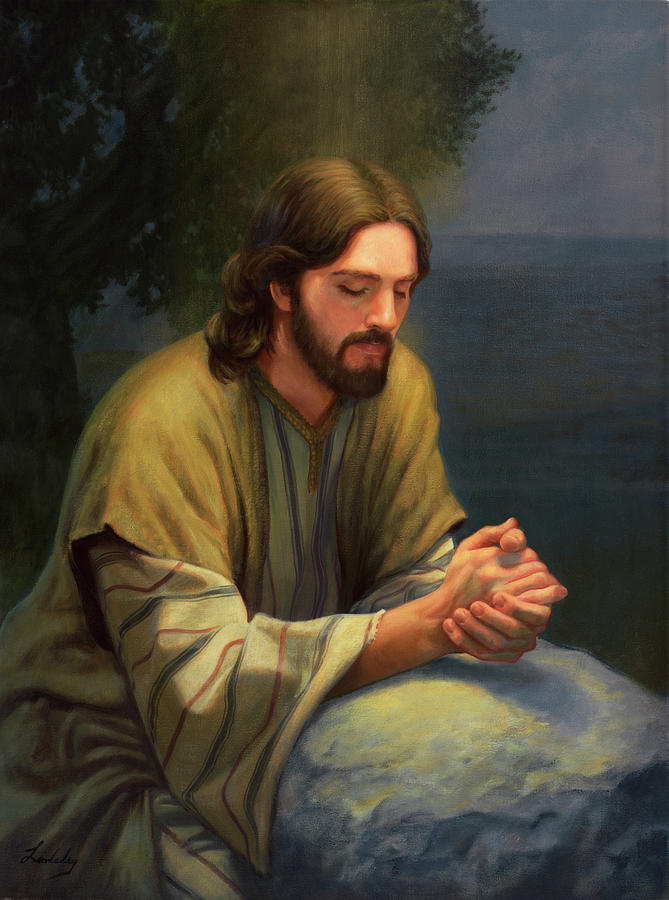 No single event in the history of the world was more important than what took place on that evening. Jesus bled from every pore – for you and for me, making an atonement for your sins, and mine.
---
John 17 – The Intercessory Prayer
These words spake Jesus, and lifted up his eyes to heaven, and said, Father, the hour is come; glorify thy Son, that thy Son also may glorify thee:
2 As thou hast given him power over all flesh, that he should give eternal life to as many as thou hast given him.
3 And this is life eternal that they might know thee the only true God, and Jesus Christ, whom thou hast sent.
4 I have glorified thee on the earth: I have finished the work which thou gavest me to do.
5 And now, O Father, glorify thou me with thine own self with the glory which I had with thee before the world was.
6 I have manifested thy name unto the men which thou gavest me out of the world: thine they were, and thou gavest them me; and they have kept thy word.
7 Now they have known that all things whatsoever thou hast given me are of thee.
8 For I have given unto them the words which thou gavest me; and they have received them, and have known surely that I came out from thee, and they have believed that thou didst send me.
9 I pray for them: I pray not for the world, but for them which thou hast given me; for they are thine.
10 And all mine are thine, and thine are mine; and I am glorified in them.
11 And now I am no more in the world, but these are in the world, and I come to thee. Holy Father, keep through thine own name those whom thou hast given me, that they may be one, as we are.
12 While I was with them in the world, I kept them in thy name: those that thou gavest me I have kept, and none of them is lost, but the son of perdition; that the scripture might be fulfilled.
13 And now come I to thee; and these things I speak in the world, that they might have my joy fulfilled in themselves.
14 I have given them thy word; and the world hath hated them, because they are not of the world, even as I am not of the world.
15 I pray not that thou shouldest take them out of the world, but that thou shouldest keep them from the evil.
16 They are not of the world, even as I am not of the world.
17 Sanctify them through thy truth: thy word is truth.
18 As thou hast sent me into the world, even so have I also sent them into the world.
19 And for their sakes I sanctify myself, that they also might be sanctified through the truth.
20 Neither pray I for these alone, but for them also which shall believe on me through their word;
21 That they all may be one; as thou, Father, art in me, and I in thee, that they also may be one in us: that the world may believe that thou hast sent me.
22 And the glory which thou gavest me I have given them; that they may be one, even as we are one:
23 I in them, and thou in me, that they may be made perfect in one; and that the world may know that thou hast sent me, and hast loved them, as thou hast loved me.
24 Father, I will that they also, whom thou hast given me, be with me where I am; that they may behold my glory, which thou hast given me: for thou lovedst me before the foundation of the world.
25 O righteous Father, the world hath not known thee: but I have known thee, and these have known that thou hast sent me.
26 And I have declared unto them thy name, and will declare it: that the love wherewith thou hast loved me may be in them, and I in them.
---
The Life of Christ – Written by Frederick W. Farrar – Originally published in 1874.
CHAPTER LVII
GETHSEMANE – THE AGONY AND THE ARREST
"Non mortem horruit simpliciter … peccata vero nostra, quorum onus illi erat impositum, suâ ingente mole eum premebant." CALVIN ( ad Matt. xxvi. 37 ).
THEIR way led them through one of the city gates – probably that which then corresponded to the present gate of St. Stephen down the steep sides of the ravine, across the wady of the Kidron, which lay a hundred feet below, and up the green and quiet slope beyond it. To one who has visited the scene at that very season of the year and at that very hour of the night – who has felt the solemn hush of the silence even at this short distance from the city wall who has seen the deep shadows flung by the great boles of the ancient olive – trees, and the checkering of light that falls on the sward through their moonlight – silvered leaves, it is more easy to realize the awe which crept over those few Galilæans, as in almost unbroken silence, with something perhaps of secresy, and with a weight of mysterious dread brooding over their spirits, they followed Him, who with bowed head and sorrowing heart walked before them to His willing doom.
We are told but of one incident in that last and memorable walk through the midnight to the familiar Garden of Gethsemane. It was a last warning to the disciples in general, to St. Peter in particular. It may be that the dimness, the silence, the desertion of their position, the dull echo of their footsteps, the stealthy aspect which their movements wore, the agonizing sense that treachery was even now at work, was beginning already to produce an icy chill of cowardice in their hearts; sadly did Jesus turn and say to them that on that very night they should all be offended in Him – all find their connection with Him a stumbling – block in their path – and the old prophecy should be fulfilled, "I will smite the shepherd, and the sheep shall be scattered abroad." And yet, in spite of all, as a shepherd would He go before them, leading the way to Galilee? They all repudiated the possibility of such an abandonment of their Lord, and Peter, touched already by this apparent distrust of His stability, haunted perhaps by some dread lest Jesus felt any doubt of him, was loudest and most emphatic in his denial. Even if all should be offended, yet never would he be offended. Was it a secret misgiving in his own heart which made his asseveration so prominent and so strong? Not even the repetition of the former warning, that, ere the cock should crow, he would thrice have denied his Lord, could shake him from his positive assertion that even the necessity of death itself should never drive him to such a sin. And Jesus only listened in mournful silence to vows which should so soon be scattered into air.
So they came to Gethsemane, which is about half a mile from the city walls. It was a garden or orchard marked probably by some slight enclosure; and as it had been a place of frequent resort for Jesus and His followers, we may assume that it belonged to some friendly owner. The name Gethsemane means "the oil-press," and doubtless it was so called from a press to crush the olives yielded by the countless trees from which the hill derives its designation. Any one who has rested at noonday in the gardens of En-gannim or Nazareth in spring, and can recall the pleasant shade yielded by the interlaced branches of olive and pomegranate, and fig and myrtle, The traditional site, may easily imagine what kind of spot it was. venerable and beautiful as it is from the age and size of the grey gnarled olive – trees, of which one is still known as the Tree of the Agony, is perhaps too public – being, as it always must have been, at the angle formed by the two paths which lead over the summit and shoulder of Olivet to be regarded as the actual spot. It was more probably one of the secluded hollows at no great distance from it which witnessed that scene of awful and pathetic mystery. But although the exact spot cannot be determined with certainty, the general position of Gethsemane is clear, and then as now the checkering moonlight, the grey leaves, the dark brown trunks, the soft greensward, the ravine with Olivet towering over it to the eastward and Jerusalem to the west, must have been the main external features of a place which must be regarded with undying interest while Time shall be, as the place where the Saviour of mankind entered alone into the Valley of the Shadow.
Jesus knew that the awful hour of His deepest humiliation had arrived that from this moment till the utterance of that great cry with which He expired, nothing remained for Him on earth but the torture of physical pain and the poignancy of mental anguish. All that the human frame can tolerate of suffering was to be heaped upon His shrinking body; every misery that cruel and crushing insult can inflict was to weigh heavy on His soul; and in this torment of body and agony of soul even the high and radiant serenity of His divine spirit was to suffer a short but terrible eclipse. Pain in its acutest sting, shame in its most overwhelming brutality, all the burden of the sin and mystery of man's existence in its apostasy and fall – this was what He must now face in all its most inexplicable accumulation. But one thing remained before the actual struggle, the veritable agony, began. He had to brace His body, to nerve His soul, to calm His spirit by prayer and solitude to meet that hour in which all that is evil in the Power of Evil should wreak its worst upon the Innocent and Holy. And He must face that hour alone: no human eye must witness, except through the twilight and shadow, the depth of His suffering. Yet He would have gladly shared their sympathy; it helped Him in this hour of darkness to feel that they were near, and that those were nearest who loved Him best. "Stay here," He said to the majority, "while I go there and pray." Leaving them to sleep on the damp grass, each wrapped in his outer garment, He took with Him Peter and James and John, and went about a stone's throw farther. It was well that Peter should face all that was involved in allegiance to Christ: it was well that James and John should know what was that cup which they had desired preeminently to drink. But soon even the society of these chosen and trusted ones was more than He could bear. A grief beyond utterance, a struggle beyond endurance, a horror of great darkness, a giddiness and stupefaction of soul overmastered Him, as with the sinking swoon of an anticipated death. It was a tumult of emotion which none must see. "My soul," He said, "is full of anguish, even unto death. Stay here and keep watch." Reluctantly He tore Himself away from their sustaining tenderness and devotion, and retired yet farther, perhaps out of the moonlight into the shadow. And there, until slumber overpowered them, they were conscious of how dreadful was that paroxysm of prayer and suffering through which He passed. They saw Him sometimes on His knees, sometimes out stretched in prostrate supplication upon the damp ground; they heard snatches of the sounds of murmured anguish in which His humanity pleaded with the divine will of His Father. The actual words might vary, but the substance was the same throughout. "Abba, Father, all things are possible unto Thee! take away this cup from me; nevertheless, not what I will, but what Thou wilt."
And that prayer in all its infinite reverence and awe was heard; that strong crying and those tears were not rejected. We may not intrude too closely into this scene. It is shrouded in a halo and a mystery into which no footstep may penetrate. We, as we contemplate it, are like those disciples – our senses are confused, our perceptions are not clear. We can but enter into their amazement and sore distress. Half waking, half oppressed with an irresistible weight of troubled slumber, they only felt that they were dim witnesses of an unutterable agony, far deeper than anything which they could fathom, as it far transcended all that, even in our purest moments, we can pretend to understand. The place seems haunted by presences of good and evil, struggling in mighty but silent contest for the eternal victory. They see Him, before whom the demons had fled in howling terror, lying on His face upon the ground. They hear that voice wailing in murmurs of broken agony, which had commanded the wind and the sea, and they obeyed Him. The great drops of anguish which drop from Him in the deathful struggle, look to them like heavy gouts of blood. Under the dark shadows of the trees, amid the interrupted moonlight, it seems to them that there is an angel with Him, who supports His failing strength, who enables Him to rise victorious from those first prayers with nothing but the crimson traces of that bitter struggle upon His brow.
And whence came all this agonized failing of heart, this fearful amazement, this horror of great darkness, this passion which almost brought Him down to the grave before a single pang had been inflicted upon him – which forced from Him the rare and intense phenomenon of a blood-stained sweat – which almost prostrated body, and soul, and spirit with one final blow? Was it the mere dread of death – the mere effort and determination to face that which He foreknew in all its dreadfulness, but from which, nevertheless, His soul recoiled? There have been those who have dared – I can scarcely write it without shame and sorrow – to speak very slightingly about Gethsemane; to regard that awful scene, from the summit of their ignorant presumption, with an almost contemptuous dislike to speak as though Jesus had there shown a cowardly sensibility. Thus, at the very moment when we should most wonder and admire, they
"Not even from the Holy One of Heaven Refrain their tongues blasphèmous."
And yet, if no other motive influence them if they merely regard Him as a Prophet preparing for a cruel death – if no sense of decency, no power of sympathy, restrain them from thus insulting even a Martyr's agony at the moment when its pang was most intense – does not common fairness, does not the most ordinary historic criticism, show them how cold and false, if nothing worse, must be the miserable insensibility which prevents them from seeing that it could have been no mere dread of pain, no mere shrinking from death, which thus agitated to its inmost centre the pure and innocent soul of the Son of Man? Could not even a child see how inconsistent would be such an hypothesis with that heroic fortitude which fifteen hours of subsequent sleepless agony could not disturb – with the majestic silence before priest, and procurator, and king – with the endurance from which the extreme of torture could not wring one cry – with the calm and infinite ascendancy which overawed the hardened and worldly Roman into involuntary respect – with the undisturbed supremacy of soul which opened the gates of Paradise to the repentant malefactor, and breathed compassionate forgiveness on the apostate priests? The Son of Man humiliated into prostration by the mere abject fear of death, which trembling old men, and feeble maidens, and timid boys -a Polycarp, a Blandina, an Attalus have yet braved without a sigh or a shudder, solely through faith in His name! Strange that He should be thus insulted by impious tongues, who brought to light that life and immortality from whence came the
"Ruendi In ferrum mens prona viris, animaeque capaces Mortis, et ignavum rediturae parcere vitae!"
The meanest of idiots, the coarsest of criminals, have advanced to the scaffold without a tremor or a sob, and many a brainless and brutal murderer has mounted the ladder with a firm step, and looked round upon a yelling mob with an unflinching countenance. To adopt the commonplace of orators, "There is no passion in the mind of man so weak but it mates and masters the fear of death. Revenge triumphs over death; love slights it; honor aspireth to it; grief flieth to it; fear preoccupateth it. A man would die, though he were neither valiant nor miserable, only upon a weariness to do the same thing so oft over and over. It is no less worthy to observe how little alteration in good spirits the approaches of death make: for they appear to be the same men till the last instant." It is as natural to die as to be born. The Christian hardly needs to be told that it was no such vulgar fear which forced from his Saviour that sweat of blood. No, it was something infinitely more than this: infinitely more than the highest stretch of our imagination can realize. It was something far deadlier than death. It was the burden and the mystery of the world's sin which lay heavy on His heart; it was the tasting, in the divine humanity of a sinless life, the bitter cup which sin had poisoned; it was the bowing of Godhead to endure a stroke to which man's apostasy had lent such frightful possibilities. It was the sense, too, of how virulent, how frightful, must have been the force of evil in the Universe of God which could render necessary so infinite a sacrifice. It was the endurance, by the perfectly guiltless, of the worst malice which human hatred could devise; it was to experience in the bosom of perfect innocence and perfect love, all that was detestable in human ingratitude, all that was pestilent in human hypocrisy, all that was cruel in human rage. It was to brave the last triumph of Satanic spite and fury, uniting against His lonely head all the flaming arrows of Jewish falsity and heathen corruption – the concentrated wrath of the rich and respectable, the yelling fury of the blind and brutal mob. It was to feel that His own, to whom He came, loved darkness rather than light that the race of the chosen people could be wholly absorbed in one insane repulsion against infinite goodness and purity and love.
Through all this He passed in that hour which, with a recoil of sinless horror beyond our capacity to conceive, foretasted a worse bitterness than the worst bitterness of death. And after a time victorious indeed, but weary almost to fainting, like His ancestor Jacob, with the struggle of those supplications – He came to seek one touch of human support and human sympathy from the chosen of the chosen – His three Apostles. Alas! He found them sleeping. It was an hour of fear and peril; yet no certainty of danger, no love for Jesus, no feeling for His unspeakable dejection, had sufficed to hold their eyes waking. Their grief, their weariness, their intense excitement, had sought relief in heavy slumber. Even Peter, after all his impetuous promises, lay in deep sleep, for his eyes were heavy. "Simon, sleepest thou?" was all He said. As the sad reproachful sentence fell on their ears, and startled them from their slumbers, "Were ye so unable," He asked, "to watch with me a single hour? Watch and pray that ye enter not into temptation." And then, not to palliate their failure, but rather to point out the peril of it, "The spirit," He added, "is willing, but the flesh is weak."
Once more He left them, and again, with deeper intensity, repeated the same prayer as before, and in a pause of His emotion came back to His disciples. But they had once more fallen asleep; nor, when He awoke them, could they, in their heaviness and confusion, find anything to say to Him. Well might He have said, in the words of David, "Thy rebuke hath broken my heart; I am full of heaviness; I looked for some to have pity on me, but there was no man, neither found I any to comfort me"
For the third and last time – but now with a deeper calm, and a brighter serenity of that triumphant confidence which had breathed through the High – Priestly prayer – He withdrew to find His only consolation in communing with God. And there He found all that He needed. Before that hour was over He was prepared for the worst that Satan or man could do. He knew all that would befall Him; perhaps He had already caught sight of the irregular glimmering of lights as His pursuers descended from the Temple precincts. Yet there was no trace of agitation in His quiet words when, coming a third time and finding them once more sleeping, "Sleep on now," He said, "and take your rest. It is enough. The hour is come. Lo! the Son of Man is being betrayed into the hands of sinners." For all the aid that you can render, for all the comfort your sympathy can bestow, sleep on. But all is altered now. It is not I who wish to break these your heavy slumbers. They will be very rudely and sternly broken by others. "Rise, then; let us be going. Lo! he that betrayeth me is at hand."
Yes, it was more than time to rise, for while saints had slumbered sinners had plotted and toiled in exaggerated preparation. While they slept in their heavy anguish, the traitor had been very wakeful in his active malignity. More than two hours had passed since from the lighted chamber of their happy communion he had plunged into the night, and those hours had been very fully occupied. He had gone to the High Priests and Pharisees, agitating them and hurrying them on with his own passionate precipitancy; and partly perhaps out of genuine terror of Him with whom he had to deal, partly to enhance his own importance, had got the leading Jews to furnish him with a motley band composed of their own servants, of the Temple watch with their officers, and even with a part at least of the Roman garrison from the Tower of Antonia, under the command of their tribune. They were going against One who was deserted and defenceless, yet the soldiers were armed with swords, and even the promiscuous throng had provided themselves with sticks. They were going to seize One who would make no attempt at flight or concealment, and the full moon shed its lustre on their unhallowed expedition; yet, lest He should escape them in some limestone grotto, or in the deep shade of the olives, they carried lanterns and torches in their hands. It is evident that they made their movements as noise less and stealthy as possible; but at night a deep stillness hangs over an Oriental city, and so large a throng could not move unnoticed. Already, as Jesus was awaking His sleepy disciples, His ears had caught in the distance the clank of swords, the tread of hurrying footsteps, the ill-suppressed tumult of an advancing crowd. He knew all that awaited Him; He knew that the quiet garden which He had loved, and where He had so often held happy intercourse with His disciples, was familiar to the traitor. Those unwonted and hostile sounds, that red glare of lamps and torches athwart the moonlit inter-spaces of the olive – yards, were enough to show that Judas had betrayed the secret of His retirement, and was even now at hand.
And even as Jesus spoke the traitor himself appeared. Overdoing his part – acting in the too-hurried impetuosity of a crime so hideous that he dared not pause to think – he pressed forward into the enclosure, and was in front of all the rest. "Comrade," said Jesus to him as he hurried forward, "the crime for which thou art come. —–" The sentence seems to have been cut short by the deep agitation of His spirit, nor did Judas return any answer, intent only on giving to his confederates his shameful preconcerted signal. "He whom I kiss," he had said to them, "the same is He. Seize Him at once, and lead Him away safely." And so, advancing to Jesus with his usual cold title of address, he exclaimed, "Rabbi, Rabbi, hail!" and profaned the sacred cheek of his Master with a kiss of overacted salutation. "Judas," said Jesus to him, with stern and sad reproach," dost thou betray the Son of Man with a kiss?" These words were enough, for they simply revealed the man to himself, by stating his hideous act in all its simplicity; and the method of his treachery was so unparalleled in its heinousness, so needless and spontaneously wicked, that more words would have been superfluous. With feelings that the very devils might have pitied, the wretch slunk back to the door of the enclosure, towards which the rest of the crowd were now beginning to press.
"Lord, shall we smite with the sword?" was the eager question of St. Peter, and the only other disciple provided with a weapon; for, being within the garden, the Apostles were still unaware of the number of the captors. Jesus did not at once answer the question; for no sooner had He repelled the villainous falsity of Judas than He Himself stepped out of the enclosure to face His pursuers. Not flying, not attempting to hide Himself, He stood there before them in the full moonlight in His unarmed and lonely majesty, shaming by His calm presence their superfluous torches and superfluous arms.
"Whom are ye seeking?" He asked.
The question was not objectless. It was asked, as St. John points out, to secure His Apostles from all molestation; and we may suppose also that it served to make all who were present the witnesses of His arrest, and so to prevent the possibility of any secret assassination or foul play.
" Jesus of Nazareth, " they answered.
Their excitement and awe preferred this indirect answer, though if there could have been any doubt as to who the speaker was. Judas was there, the eye of the Evangelist noticed him, trying in vain to lurk amid the serried ranks of the crowd – to prevent any possible mistake which might have been caused by the failure of his premature and therefore disconcerted signal.
" I am He, " said Jesus.
Those quiet words produced a sudden paroxysm of amazement and dread. That answer so gentle "had in it a strength greater than the eastern wind, or the voice of thunder, for God was in that 'still voice,' and it struck them down to the ground." Instances are not wanting in history in which the untroubled brow, the mere glance, the calm bearing of some defenceless man, has disarmed and paralyzed his enemies. The savage and brutal Gauls could not lift their swords to strike the majestic senators of Rome. "I cannot slay Marius," exclaimed the barbarian slave, flinging down his sword and flying headlong from the prison into which he had been sent to murder the aged hero. Is there, then, any ground for the scoffing scepticism with which many have received St. John's simple but striking narrative, that, at the words "I am He." A movement of contagious terror took place among the crowd, and, starting back in confusion, some of them fell to the ground? Nothing surely was more natural. It must be remembered that Judas was among them; that his soul was undoubtedly in a state of terrible perturbation; that Orientals are specially liable to sudden panic; that fear is an emotion eminently sympathetic; that most of them must have heard of the mighty miracles of Jesus, and that all were at any rate aware that He claimed to be a Prophet; that the manner in which He met this large multitude, which the alarms of Judas had dictated as essential to His capture, suggested the likelihood of some appeal to supernatural powers; that they were engaged in one of those deeds of guilty violence and midnight darkness which paralyze the stoutest minds. When we bear this in mind, and when we remember too that on many occasions in His history the mere presence and word of Christ had sufficed to quell the fury of the multitude, and to keep Him safe in the midst of them, it hardly needs any recourse to miracle to account for the fact that these official marauders and their infamous guide recoiled from those simple words, "I am He," as though the lightning had suddenly been flashed into their faces.
While they stood cowering and struggling there, He again asked them, "Whom are ye seeking?" Again they replied, "Jesus of Nazareth." "I told you," He answered, " that I am He. If, then, ye are seeking me, let these go away." For He Himself had said in His prayer, "Of those whom Thou hast given me have I lost none."
The words were a signal to the Apostles that they could no longer render Him any service, and that they might now consult their own safety if they would. But when they saw that He meant to offer no resistance, that He was indeed about to surrender Himself to His enemies, some pulse of nobleness or of shame throbbed in the impetuous soul of Peter; and hopeless and useless as all resistance had now become, he yet drew his sword, and with a feeble and ill – aimed blow severed the ear of a man named Malchus, a servant of the High Priest. Instantly Jesus stopped the ill-timed and dangerous struggle. "Return that sword of thine into its place, "He said to Peter," for all they that take the sword shall perish with the sword; "and then He reproachfully asked His rash disciple whether he really supposed that He could not escape if He would? whether the mere breathing of a prayer would not secure for Him – had He not voluntarily intended to fulfil the Scriptures by drinking the cup which His Father had given Him – the aid, not of twelve timid Apostles, but of more than twelve legions of angels?" And then, turning to the soldiers who were holding Him, He said, "Suffer ye thus far," and in one last act of miraculous mercy touched and healed the wound.
In the confusion of the night this whole incident seems to have passed unnoticed except by a very few. At any rate, it made no impression upon these hardened men. Their terror had quite vanished, and had been replaced by insolent confidence. The Great Prophet had voluntarily resigned Himself; He was their helpless captive. No thunder had rolled; no angel flashed down from heaven for His deliverance; no miraculous fire devoured amongst them. They saw before them nothing but a weary unarmed man, whom one of His own most intimate followers had betrayed, and whose arrest was simply watched in helpless agony by a few terrified Galilæans. They had fast hold of Him, and already some chief priests, and elders, and leading officers of the Temple guard had ventured to come out of the dark background from which they had securely seen His capture, and to throng about Him in insulting curiosity. To these especially He turned, and said to them, "Have ye come out as against a robber with swords and staves? When I was daily with you in the Temple ye did not stretch out your hands against me. But this is your hour, and the power of darkness." Those fatal words quenched the last gleam of hope in the minds of His followers. "Then His disciples, all of them" -even the fiery Peter, even the loving John- "forsook Him, and fled." At that supreme moment only one unknown youth – perhaps the owner of Gethsemane, perhaps St. Mark the Evangelist, perhaps Lazarus the brother of Martha and Mary – ventured, in his intense excitement, to hover on the outskirts of the hostile crowd. He had apparently been roused from sleep, for he had nothing to cover him except the sindôn, or linen sheet, in which he had been sleeping. But the Jewish emissaries, either out of the mere wantonness of a crowd at seeing a person in an unwonted guise, or because they resented his too close intrusion, seized hold of the sheet which he had wrapped about him; whereupon he too was suddenly terrified, and fled away naked, leaving the linen garment in their hands.
Jesus was now absolutely alone in the power of His enemies. At the command of the tribune His hands were tied behind His back, and forming a close array around Him, the Roman soldiers, followed and surrounded by the Jewish servants, led Him once more through the night, over the Kedron, and up the steep city slope beyond it, to the palace of the High Priest.